Steps & Questions to Find Root Cause
List Possible Cause
Here the team are identifies Possible Cause. This is based on general experience, knowledge of the process, past experience, common sense and logic.
Here's a List Possible Cause Screen.
Create a Why Chain for Each Possible Cause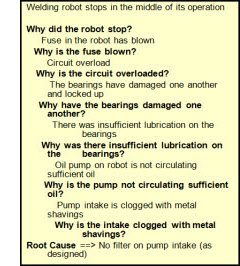 PHRED walks the team through asking "why?" several times in order to find the Root Cause of the problem. Determining Root Cause normally requires answering "Why?" at minimum three to five times.
See an example of a 5 Whys Screen.
Do you want to eliminate this possible cause?
Having found the final "Why?" we now make sure that we have truly hit Root Cause for this why chain.
If your answer is "Yes" you will be asked why you eliminated this root cause and to provide the thinking and data behind why you eliminated this root cause.
Here's an example of an Eliminate Possible Cause Screen.
If your answer is Yes, Describe why you eliminated this possible cause.
Here you explain how you decided that the last "Why?" really is or was the Root Cause. If you have a plan to verify your hypothesis, enter it. Many times it is verified through observation, so go see if this is really it.
PHRED forces users to test the validity of their why chain hypothesis by going and seeing the circumstances of the root cause.
See a sample Eliminate Possible Cause Screen.
Attachments
Attach the data that supports your root cause analysis. The more complex your root cause analysis is, the more data is likely to be attached. Remember, a picture is worth a thousand words.
Here's a sample Attachments Screen.
Getting Help with Root Cause Analysis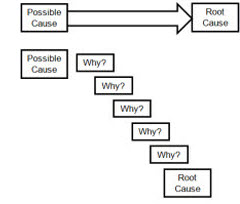 This is the stage where getting the involvement of experts is key. PHRED makes it easier for them to guide novice users in this difficult task.
Jumping from possible cause to root cause is usually a guess. You wouldn't want to bet the company on any solution based on a guess.
PHRED gives the investigators a clear way to show the thinking behind their root cause analysis. This level of detail allows the experts to understand what is happening and provide feedback.
See an Experts Screen.
Using the Database to Research Root Cause
The database acts as a library, a place for researching how root cause was found in similar areas and problems. The root cause analysis stored in the database provides engineers with the detailed information they need to design out defects.
Here's a Library Screen.
Root Cause Report Out
Once root cause has been found, we recommend giving a report out to co-workers, experts and managers. This is a very valuable knowledge sharing exercise. Make sure that the logic used to develop your why chain is correct from all perspectives. Go online with PHRED in meetings at this stage so that a discussion can take place BEFORE the solutions are considered. (Please don't do this after the solution didn't work.) Holding regular, open forum discussions of why chains is one of the quickest ways to produce improvement in problem solving. It also educates the problem teams on why things work the way they do.
Here's a Possible Cause Report.
© 2015 PHRED Solutions | Home | Contact Us | About Us | PHRED's Blog